Construction Recruitment Gets Boost with New Platforms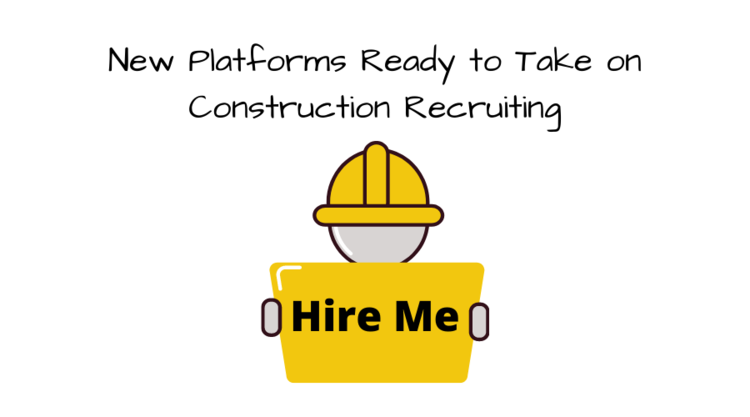 The world of online construction recruiting has long been defined by just a few job boards over the past 20 years. Sites like ConstructionJobs.com and RoadTechs have been among the few options available to employers.
But a new crop of next generation hiring tools is promising to shake up this dormant recruiting sector which also includes skilled trades.
They are led by Trade Hounds, an app based community of construction workers which got funding to the tune of $3.2 Million back in June of 2020. And more recently, Rigup has rebranded itself to Workrise in an effort to focus on more skilled trades beyond their oil and gas origins.
Here's a quick look at the main players taking shape in construction and skilled trades. They all have traction and funding to make a name for themselves.
Trade Hounds
Trade Hounds has built a vast community of 200k tradespeople that are already using the platform to showcase their work, build professional profiles and expand their networks. It connects contractors directly with the skilled tradespeople they're seeking to hire. The platform is accessed exclusively via mobile app. LINK
Workrise
No longer serving just the oil and gas sector, Workrise will support a broad range of industries, including wind, solar, construction, and defense, all representing infrastructure more broadly. In the field, Workrise now serves over 70 metro areas, including Atlanta, where the company will focus on construction, and Colorado, where Workrise will support job creation for the wind industry. LINK
TraLaMa
TraLaMa is an online community where businesses find skilled trade labor, and where skilled trade laborers find full-time employment or short-term work. Whether using the TraLaMa app or TraLaMa.com, trade laborers can create an account, build their profile, and then browse and respond to open posts. Businesses use the app or website to create an account, post full-time or one-time job openings, choose from available laborers, and hire one or more workers. LINK
Hard Hats
Led by female founder Kassidy Hazelton, HardHats is an on-demand recruiting platform connecting construction workers, crews and contractors to combat downtime & labor with available jobs. Employers also have access to a free job board. LINK
GoContractor
This platform digitizes construction worker onboarding and compliance tracking, recently announced a $5 million Series A round of funding. According to the company, approximately one million construction workers, subcontractors, and support personnel are on-boarded and trained each day on construction sites across the globe. Traditionally, this process is done manually, in-person and requires one to two hours of classroom training, document collection, and site orientation. GoContractor moves this entire process online, through any web-enabled device. This allows workers and subcontractors arrive at job sites fully prepared to work, with all of their paperwork and documentation completed beforehand. LINK
LaborChart
This provider of integrated workforce management cloud platforms for the global construction industry helps businesses manage employee scheduling, dispatching, forecasting, communication, and more. Built from a unique blend of construction and software expertise, LaborChart helps contractors of all trades organize their workforce into one secure and easy-to-manage platform. LINK
Whenever new technology comes to a stodgy industry like construction there is always opportunity to become a player in recruitment. It will be interesting to see these platforms evolve and serve a market in need of new options.