Trade Hounds, which aims to be the LinkedIn of the construction industry, announced today the close of its $3.2 million seed funding round.
Subscribe to the Crunchbase Daily
Corigin Ventures and Brick and Mortar Ventures co-led the financing, which also included participation from industry giant Suffolk Construction and CCS Construction Staffing. The financing brings Boston-based Trade Hounds' total venture funding raised to date to about $8.1 million, the company said.
In conjunction with the investment, Trade Hounds announced plans to launch a jobs platform this summer that connects qualified tradespeople with construction companies and staffing firms.
Australian native David Broomhead came up with the idea for Trade Hounds in 2014 after working with his uncle, who operated a construction company. He noticed that his uncle was sourcing jobs mainly through his personal network. Broomhead also realized that most construction or trade workers don't use traditional job sites such as Indeed or LinkedIn, and would benefit from a community of their own.
"It's always bothered me that tradespeople – the skilled workers who build our hospitals, schools and infrastructure – don't have access to a technology platform that meets their professional needs," he said. "It was like a lightning bolt. I asked myself, 'Why hasn't anyone done this?'"
Broomhead moved to Boston in 2014 and two years later, he co-founded Trade Hounds to give "hard-hat-wearing workers" a place to communicate with others in their industries and showcase their skills. They can also seek advice and build their networks.
Co-Founder and CFO Peter Maglathlin said the goal has been to build a platform that the tradespeople of America "want to use in a habitual way, capturing their hearts and minds."
"Legacy platforms have failed this demographic," he told Crunchbase News.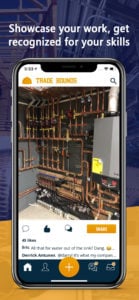 Trade Hounds launched a mobile app in 2019, and today, its platform has more than 150,000 registered users.
"Our users can interact with each other through their preferred mode of communication: imagery and video," Broomhead said. ""Electricians, plumbers, carpenters – workers across the skilled trades – prefer to 'show' their work through photos versus 'tell' about in writing. This is why existing professional platforms simply don't work for this demographic."
Now, Trade Hounds is ready to take the next logical step by giving those workers a place to also find jobs. The company claims the new jobs platform will simplify and shorten the search and hiring process for companies and staffing agencies while giving workers a way to get noticed.
Trade Hounds plans to use its new capital to continue to expand its user base, roll out the jobs platform and (naturally) boost its headcount from its current team of nine.
Ryan Freedman, general partner of Corigin Ventures, noted that historically, most sites have focused on jobs in the construction industry, "rather than the people."
To Brick & Mortar Ventures' managing director Darren Bechtel (whose family runs construction giant Bechtel Corp.), "construction is an opaque industry based on tribal knowledge with a language of its own."
"Men and women working across the various construction trades now have a digital home on Trade Hounds – a place where they are understood and recognized by their peers in the trades," he said.
The platform is free to workers. The company plans to make money via its new jobs platform by charging companies for access.
Photo courtesy of Trade Hounds, Left to Right: Peter Maglathlin and David Broomhead
Blogroll Illustration: Li-Anne Dias